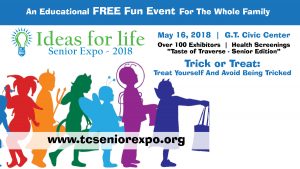 Reservation Forms With Total Payment Due by March 31, 2018
We're anticipating another excellent experience at "Ideas for Life" Senior Expo. And, we're looking forward to seeing you there!!! This event offers an opportunity for businesses and organizations to inform and educate the older adult population and caregivers about products and services. The theme this year is "Trick or Treat: Treat yourself and avoid being tricked".
Through the collaboration of the many Bay Area Senior Advocates (B.A.S.A.) member organizations dedicated to serving aging individuals we've developed several educational opportunities for our community.
They include:
• Opportunities for exhibitors to reach a diverse audience from 10 am – 3 pm at the Grand Traverse Civic Center
• "Taste of Traverse" lunch for seniors featuring food from local senior service providers
• Complimentary Booth Carpeting
• Radio and TV advertising prior to event.
As an exhibitor you'll enjoy being the focus of the day as you exhibit your products and services! The consumer will receive your information, educational seminars, and refreshments. All in the welcoming atmosphere of "Ideas for Life" Senior Expo.
Exhibit materials are enclosed. We anticipate booths will fill quickly. Exhibitors will be selected on a first come first serve basis. Your prompt reply and payment is strongly encouraged.
The deadline for paid early bird registration is March 31, 2018
Questions regarding "Ideas for Life: Senior Expo 2018"
Contact Maggie Hardy | mhardy@alz.org | 231-499-9668
*Bay Area Senior Advocates (BASA) is a collaborative organization comprised of both profit and non-profit older adult service providers in Grand Traverse and Leelanau Counties.


Thank you! Registration for the 2018 Ideas for Life Senior Expo is now closed.